The iTouch Foundation initiative & fellow Prime Group company Prime Sports Management (PSM) in partnership with Project Playground are proud to announce that they will host the first Youth Champions League in a bid to raise awareness for local youth development through sport.
Since the highs of hosting the 2010 FIFA world cup, South Africa has paid very little attention to football and especially youth development and the national team, in turn, has suffered. South Africa have not qualified for major tournaments since being the hosts of the World Cup and (Bafana Bafana) is currently ranked 78th in the world, 17th in Africa.
Even though there are 5 soccer players for every cricket player and rugby player in the country, the national team pool of talent has become very limited in terms of the highest quality. This is not to say we have a lack of sporting talent, but rather not enough nurturing of the talent we have especially at grassroots level.
The PPG youth tournament aims to lay a solid foundation and give birth to the next set generation of rising stars like Jerry 'legs of thunder' Sikhosana, Lucas Radebe, Doctor Khumalo, Benni McCarthy & many more.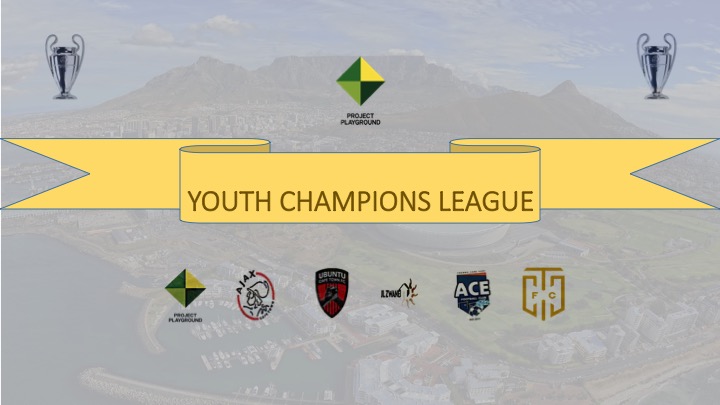 The Project Playground Youth Champions League takes place over the coming weeks
The PPG Youth Champions League format
Round robin:
The tournament consists of 5 rounds
3 fixtures per round
1 round is completed per week
Each team plays all other teams once
Tournament dates:
Round 1: Saturday, 24 February 2018
Round 2: Friday, 2 March 2018
Round 3: Saturday, 10 March 2018
Round 4: Saturday, 17 March 2018
Round 5: Saturday, 24 March 2018
Winners:
The winners will be determined after all the games have been completed. The team with the most points after five rounds will be declared Champions while the team with the second most points after five rounds will be declared runners-up.
Aim of the tournament
To bring together Cape Town's 3 best academies and 3 best township youth structures
To mimic the competitiveness and standard of international youth football competitions
To Offer an alternative: Since this will be the only local youth tournament with a round robin structure
To Encourage professionalism: Through consistent and competitive weekly fixtures
To Prepare players for the best available local opportunity: Such as The Bayhill Premier Cup
To Provide opportunity at the 'end of the road' for youth footballers who could have one last shot to prove themselves
Why the need for a tournament of this kind
Empowering players through sport is underpinned by our commitment to addressing the major challenges faced by our youth – poverty, drug and alcohol abuse, gangsterism
Desperate Lack of opportunity
Only 5% of academy footballers go on to make a living out of playing football with soccer in the townships hampered by disorganization and lacking competition and standards.
Youth soccer in South Africa in general lacks development and real nurturing of talent that is seen globally.
Flawed system
Players do not have exposure or a platform to progress without the small group of 3 premier youth tournaments1 countrywide. In the Western Cape, distant Local Football Associations result in the biggest clubs not competing against each other.
Characterised by non-attendance and tardiness of match officials and teams; no transparency in development strategy and limited opportunities in the national professional league as well international exposure.
Disparity
Initiatives that cater to football youth development are few and far between and this creates a large gulf between the big established Cape Town clubs (Multichoice Diski Challenge squads and resources) and the under-resourced, inadequately administrated township leagues.
Who is Project Playground (PPG)
A non-profit organisation founded by two Swedish natives, Frida Vesterberg and Sofia Bernadotte in 2010. PPG operates in Langa and Gugulethu and has approximately 750 participants. PPG strengthens the personal and social development of these disadvantaged children and youth by providing various programs including drama, poetry, drums, marimba, dance, netball, and by far the largest program, soccer. In addition, they have programs for U8 years of age, as well as Play on Wheels, a program for children with cerebral palsy.
Visit the Project Playground website
Who is Prime Sports Management (PSM)
PSM is a sports management company driven by the mission of youth development; using its resources and over 100 years' collective business experience to make what difference it can for the better of South Africa's youth.
Through this focus, PSM embarked on a journey to assist PPG in further developing their soccer program. Professional coaches were introduced to the program to further the skill set of the PPG coaches; international courses were made available in order to implement the Coerver® Coaching method; sports science coaches introduced training programs to improve agility, strength and prevent injury.
Visit Prime Sports Management website
Contact us
If you want to know more about how the Project Playground Youth Champions League Tournament or the iTouch Foundation or you would like to get involved with this initiative, then feel free to contact us here