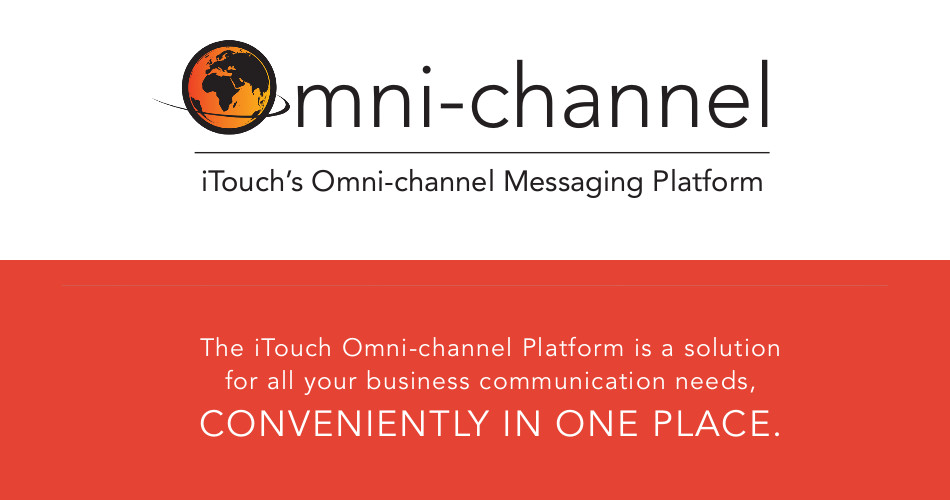 With rich trends in implementing an Omni-channel approach to client communication, there has been clear positive indicators as to the growing need by businesses in using an Omni-channel approach to serving and communicating with clients. iTouch has undertaken in providing you with an Omni-channel Platform that can enable you to communicate with your client database by the means of more than one of our specialised service offerings with the use of only one platform.
We will look at why the Omni-channel approach to communicating and serving your customers can provide significant benefits to your business, the importance of having an efficient and effective client communication strategy, how the iTouch Omni-channel platform can enable this, as well as what the platform has to offer.
Importance of having an Efficient Client Communication Strategy
iTouch understands how essential it is to have an effective and 110% secure client communication tool, the impact that it has on the success of your business and the great benefits that can contribute to the overall success of your business processes.
There are various communication tools used by businesses and selecting the right ones are extremely vital. The selection process is generally based on the current trends and new developments in technological features and capabilities.
When choosing the right communication tools, you need to ensure that they are able to cater to every aspect of not only your company's needs but the needs of your clients as well. For example, some clients may require or prefer SMS notifications, some may only require Email notifications or some may opt to receive for both. These are only a few examples of the various needs that clients might have when it comes to communications and notifications.
To ensure that your business has an effective client communication strategy in place, numerous vital factors need to be taken into consideration when constructing your plan. You need to take a closer look at:
Who are your clients - what are their communication preferences, what are their contact details, why are you communicating with them, etc.
What communication tool will you use - how to communicate with clients, including preferred channels, tone and the message depth, etc.
When is the best time to communicate - daily, weekly, monthly, etc.
Benefits of an Effective Client Communication Strategy
Let's take a look at a few of the many benefits that can be gained by having an effective and efficient client communication strategy in place in your business.
Increase in Customer Satisfaction and Loyalty: When communication is effective, customers will have a more satisfying experience when doing business with your company, and as a result, you would be able to see an increase in customer loyalty.
Better Interaction Successful client communications enable you to strengthen your customer service skills resulting in better interaction between business and clients.
Increased Awareness Building customer awareness is important as consumers have a right to know why they should buy your product or use your services, what are its benefits and how safe it will be to use your product.
Business Expansion With a successful client communication strategy and the use of the right tools, you can easily expand your business to new client bases and regions.
Cost Effective The investment in using the right technology tool to communicate with your clients and prospective clients enables you to save on communication expenses with the added bonus of a technological tool being easier to set up and content easily being accessed by clients.
These are but a few of the benefits that your business can gain from having a successful client communication strategy in place. It is without a doubt great value added for your business when investing in your client communication strategy.
The Progression of the Omni-channel Concept
The Omni-channel concept has progressed dynamically as there are continuous developments in technological functional capabilities. This is with great emphasis on the fact that we are now able to perform tasks, that would have required us to use different channels and platforms, on one combined multi-channel platforms.
Technology continues to grow and is ever-expanding, and that has become a fact. But most importantly, businesses have grown in itself as they are able to increase their sales due to the impact that the technological advancements contribute to the ways in which they operate their business, and this is in turn what the Omni-channel platform can provide and continue to support.
Omni-channel Success Indicators
There have been clear indicators that reveal the successes that come with having a successful client communication strategy that includes mainly of having an Omni-channel approach within the strategy.
Aberdeen Group Inc. stated that companies with strong Omni-channel customer engagement strategies retain an average of 89% of their customers, as compared to 33% for companies with weak Omni-channel strategies. This is evident from the survey results obtained from examining 305 companies, which was conducted in May and June of 2013 by Aberdeen Group, a division of Harte-Hanks Inc., and conveyed in their report called "Omni-Channel Customer Care".
The demand for Omni-channel approach has grown as the need for multi-channel servicing continuously increases. According to PricewaterhouseCoopers, the demand for an Omni-channel customer experience will be amplified by the need for near-perfect execution, and the number of companies that invest jumps from 20% in 2010 to more than 80% in 2018.
This supports the argument that the rise in the demand for an Omni-channel approach to communicating with clients and servicing clients will continue to increase over the years to come.
Omni-channel Trends and Developments
Omni-channel trends extend beyond just ensuring that the technology is capable of enabling sending SMS and Email messages/campaigns, it also enables active voice messaging, social media integration, database management, extensive reporting, and not forgetting the key element which is ensuring that all data is secure.
The Omni-channel approach to client communication and marketing ascend into more than just a single industry. It has moved into various industries and include financial services, healthcare, government, retail and telecommunications industries and continue to magnify. Let's take a look at how the Omni-channel approach has progressed in the different trends that have sparked many benefits with the Omni-channel concept.
1. Social Media Integration
Social media integration on an Omni-channel platform enables companies to connect with over 2.4 billion people over various social media platforms, such as Facebook and Twitter. This can be done by integrating API's onto the platform.
2. Dynamic Reporting and Analysis
An Omni-channel platform provides dynamic reporting as you are able to obtain various reporting types across the different services that are offered on the Omni-channel platform; i.e. SMS reporting, Email reporting, etc.
3. Database Management
You can easily upload an entire database and painlessly segment the database into different groups to suit your communication needs. But this is not all that companies require when it comes to database management. With database management and communications come with it the management of opt-out lists, duplication management, etc.
These are but a few of the trends and developments that arise within the Omni-channel concept. The developments that can come from the use of an Omni-channel platform has not been limited and continues to develop as technological developments surges.
The iTouch Omni-channel Platform
iTouch believes that the future of communication is having an Omni-channel communication strategy. The iTouch Omni-channel Platform is our solution to providing your business with better communication solutions that enable you to meet the marketing and communication needs of your company.
The iTouch Omni-channel platform provides you with various communication mediums on one platform - with database management capabilities, dynamic reporting requirements and seamless campaign creation.
The iTouch Omni-channel approach provides an effective solution to accommodate all of these needs and requirements, and this is particularly due to the continuous advancement in technology. The iTouch Omni-channel Platform has been developed to satisfy the needs of the two primary forms of communication, 1-way and 2-way communication.
It is our endeavour to provide your business with the opportunity and support to adopt a pioneering strategy when communicating with your client database, including potential clients, with the use of a fitting and ever-expanding contact point.
What the iTouch Omni-channel Platform Offers
The iTouch Omni-channel Platform provides an array of service solutions, which includes the following:
SMS
Email
AVM
Social
Reports
Contact Management
Let's take a closer look at a few of the platforms' capabilities.
1. SMS Communication Capability
SMS as a communication tool has enabled businesses to efficiently get their required communications transmitted to their client databases. SMS is still measured as being a successful and widespread communication tool that is clear and brief and can be delivered to any mobile device.
With the iTouch Omni-channel platform, you can create your SMS campaign with the use of a prepared file upload or use the message composition tool. Easily schedule your SMS campaign to suit your communication needs, while still staying in line with marketing communication regulations. The platform also provides comprehensive real-time reporting with a summarised dashboard.
2. Email Communication Capability
With email as a communication tool, you are able to send informed and educational messages to your clients. Create and send invoices and statements to your clients. This is enabled through capabilities that include creating email templates, uploading email templates or using stored email templates. Create generic or personalised email communications from one platform.
3. Dynamic Reporting Capabilities
With the Omni-channel platform, you are able to view comprehensive reports that enable you to view the message delivery statuses, fails, clicks, unsubscribes, etc.
For more information on the iTouch Omni-channel platform, you can have a look at the brochure here.
Contact Us
If you want to know more about the iTouch Omni-channel platform or how it can be applied to your current business then feel free to contact us here.
iTouch is also one of the few messaging companies in Africa that abide by GDPR and POPI security standards. Let us worry about the legal and security protocols so you can focus on growing your business.
Sources:
Recommended Reading
If you found this case study interesting then you may want to dive into previous case studies we've produced.