Within the technology industry, every new change is an innovative way to improve our lives. All these new advancements are meant to provide convenience, with a touch of a button or screen, and the fastest and stable internet available.
With the goals, 5G has become the hero of the tech world as it aims to provide just that for consumers. Additionally, with our smartphones becoming an extension of ourselves, this faster internet is the ideal for any user to experience first-hand.
However, before we review the top 5G phones expected in 2019, let's recap what 5G is.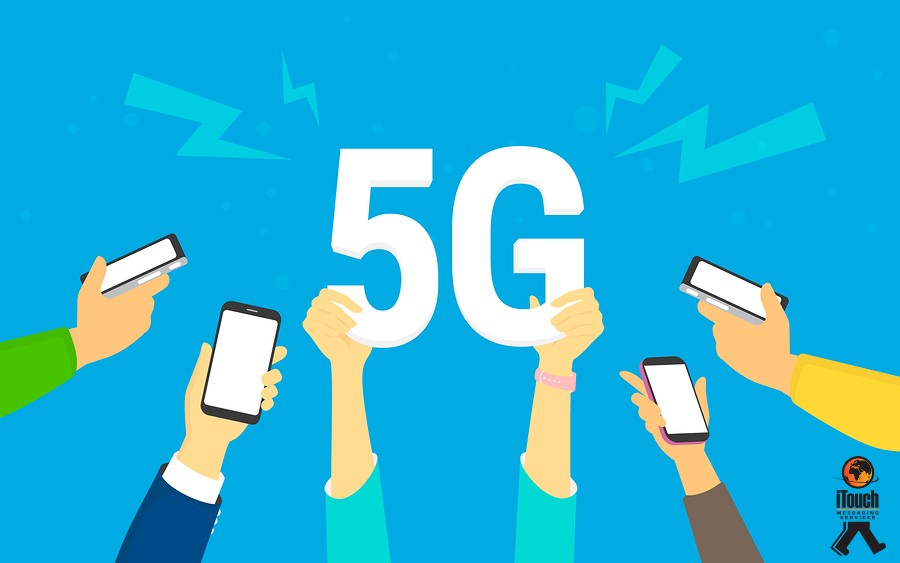 WHAT IS 5G?
5G is the successor and upgrade to 4G (or LTE). Having 5G-capability means that can enjoy faster upload and download speeds, among many other 5G phone benefits.
Although 5G isn't just about speed, it's also about capacity, and being able to get a stronger signal in crowded areas. In other words, you shouldn't lose connection as its stability is stronger than that of 5G.
To find out more on what 5G connectivity is and all its benefits, click here.
Now that we know what 5G is, let's look the smartphones in 2019 that are set to showcase 5G at its best!
Motorola Moto Z3
The Moto Z3 phone from Motorola is a little different from other 5G phones in that you have to snap on the 5G mote mode to work on a 5G network.
The moto z3 features are:
75mm thick with a 6-inch edge-to-edge
A full HD OLED display
dual 12MP depth-sensing rear cameras
8MP front-facing wide-angle lens
water-repellent coating
3000mAh battery
facial recognition, 4 GB of memory
64 GB of storage (expandable to 2 TB microSD)
LG V50 ThinQ 5G
The LG V50 ThinQ 5G smartphone is:
33mm thick
Has a 6.4-inch OLED display with five cameras — three front-facing and two back-facing.
runs off the Qualcomm Snapdragon 855 processor
Has a 4000mAh battery, including a built-in cooling system.
AI engine - which suggests contacts, automatically changes brightness and colour levels to guard against eye fatigue and provide higher search capabilities.
Additionally, it comes with a stereo Boombox speaker, Hi-Fi Quad DAC, and DTS: X 3D Surround.
Samsung Galaxy S10 5G
Samsung's first flagship 5G mobile phone is the Galaxy S10 5G, which is:
Powered by the Qualcomm Snapdragon X50 5G NR modem
Has a 6.7-inch QHD+ Curved Dynamic AMOLED display.
Equipped with a 4500mAh battery with wireless charging,
8 GB of RAM, and 512 GB internal storage.
3D Depth camera for augmented reality and Live Video Focus.
Four rear cameras (two 12MP, 16MP, and TOF) and two front-facing cameras (10MP and TOF).
Samsung Galaxy Fold

There will be two Samsung Fold's available, one for 4G LTE networks and one specifically for 5G.
The front screen is a 4.6-inch HD+ Super AMOLED display (folded), and when unfolded, the larger screen is a 7.3-inch QXGA+ Dynamic AMOLED display.
The camera on the cover of the device is 10MP. The front-facing cameras are 10MP and 8MP and a triple-camera setup on the back when the phone is unfolded (12MP telephoto, 12MP wide-angle, and 16MP ultra-wide).
The phone also has a:
4380mAh battery
wireless charging
12 GB of RAM
512 GB of storage with no microSD slot.
ZTE Axon 10 Pro
The newest member of the ZTE Axon smartphone series is the 10 Pro 5G. It's powered by the Snapdragon 855 processor and X50 5G modem and works on not only 5G networks but also 4G, 3G and 2G networks.
The Axon 10 Pro has an innovative slot antenna and adjustable antenna design to automatically know how you're using it to give you the best signal possible, while simultaneously minimizing any potential damage due to electromagnetic radiation.
The ZTE 5G includes:
a triple-camera setup on the back
a 20MP front-facing camera
an in-display fingerprint sensor
AI performance engine to help with multitasking, motion capture, portrait lighting adjustments, and scene recognition.
A 6.47-inch AMOLED display
128-256 GB of internal storage
6-8 GB of RAM
a 4000mAh battery with wireless charging
48MP rear camera with a 20MP front-facing camera.
Huawei Mate X
Huawei's foldable Mate X 5G smartphone has a:
6-inch front panel display
38-inch back panel display (folded), and when unfolded, a combined 8-inch edge-to-edge OLED display with 2480x2200 resolution.
It is 11mm thick when folded and 5.4mm thick when unfolded.
It uses the Kirin 980 processor and Balong 5000 5G modem chip.
has 8 GB of RAM with 512 GB of storage
Uses two batteries to reach 4500mAh capacity, and can be charged up to 85% in just 30 minutes with SuperCharge.
Three cameras: 40MP wide-angle, 16MP ultra wide-angle, and 8MP telephoto.
a fingerprint reader embedded in the power button
allows for split-screen mode
Supports dual-SIM (the primary SIM is 5G and the second one can be 4G/3G/2G).
Huawei Mate 20 X 5G
Mate 20 X 5G is another 5G phone from Huawei that's an upgraded version of the Huawei Mate 20 X, only with 5G capabilities.
The Mate 20 X 5G phone has a:
2-inch display
4200mAh battery
Triple camera setup on the back
and uses the Huawei Balong 5000 7nm 5G chipset.
Xiaomi Mi MIX 3 5G
Mi MIX 3 5G is Xiaomi's first 5G phone. It's a variation of the Mi MIX 3 released in late 2018 but powered by the Snapdragon 855 Mobile Platform and X50 5G modem to achieve gigabit download speeds.
This phone uses the same 12MP AI dual camera from the Mi MIX 3, so it also has the same 960 fps slow-mo video. The front-facing camera on the Mi MIX 3 5G is 24MP and uses Sony's IMX576 sensor to help create detailed shots.
Additional features are:
39-inch and 2340x1080 resolution
FHD+ Samsung AMOLED display rested in a curved ceramic casing.
a 3800mAh battery dedicated Google Assistant button
A hybrid cooling system in the Mi MIX 3 5G.
OPPO Reno 5G
The Oppo Reno has the amazing feature of having a riser at the top that's hidden in the phone during normal use but can slide out to reveal the front camera, the front and rear flash, and the speaker.
OPPO Reno 5G also includes:
Three cameras: a 48 MP main sensor, a 13 MP telephoto lens, and an 8 MP wide-angle lens — plus 10x lossless zoom.
The main sensor utilizes Ultra Night Mode to take better pictures in low light.
OPPO's 5G phone is powered by Qualcomm's Snapdragon 855 processor and X50 modem
has a 3.5-mm audio jack
will most likely end up running OPPO's intelligent assistant Breeno,
Has an under-the-screen fingerprint sensor.
Comes with 8 GB of RAM and 256 GB of internal storage.
OnePlus 7 Pro 5G
The OnePlus 7 Pro 5G phone will connect to mobile networks via the X50 modem from Qualcomm and has:
a 6.67-inch QHD+ Fluid AMOLED display
90 Hz refresh rate
blue light filter
In-display fingerprint reader and face un-locker.
It comes with anywhere from 6 GB to 12 GB of RAM
128/256 GB of storage
Built with a 4000mAh battery with Warp Charge 30 Fast Charging.
When the internet meets mobility
With 2019 the year of 5G connectivity and with the relationship between 5G and smartphones becoming official, the possibilities are endless. 5G could be game-changing for fast and stable internet while truly being mobile and taking the internet with you.
Let us help you reach your customers
Let us deliver your message to your customers with our range of communication solutions. As experts on the African continent, we can devise the perfect communications strategy for your business. We're a trusted partner for many companies as our enterprise messaging, and value-added services offer our clients a robust, scalable solution with global reach.
To find out more about our services contact us here
Sources