The growth of voice assistance
As hardware, software and broadband continue to improve it was only a matter of time before it would give birth to new concepts and industries with voice assistants being a willing recipient.
The potential of voice driven devices have not been taken lightly with plenty of the big players putting their foot forward with an offering of their own. Companies like Samsung, Google, Amazon, Apple & Microsoft to name a few, all have a voice command service or device available.
What is a virtual assistant?
A virtual assistant is a form of AI that can perform tasks or services for an individual based on voice commands.
The aim of voice assistance products is to quicken the actions you manually take on your phone and other devices through your voice instruction.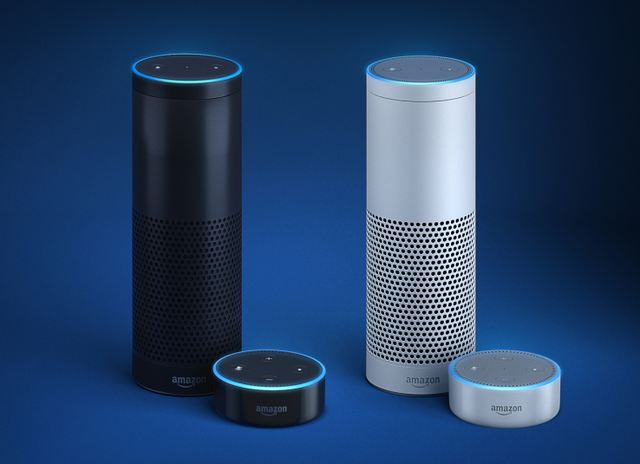 What can it do?
Voice assistance helps you set reminders, read, open and send messages, find contacts, listen to music, follow directions and so much more.
Voice assistance is all about accommodating to your behaviour and needs when you need it, and helping you interact with your phone hands free.
The front runners in the industry
If you're new to the concept of voice assistants you may want to check out the most popular options available. Thankfully we've made it easier for you by picking the top 5 and evaluating their relevant strengths and weaknesses so you're fully aware of what you're getting yourself into with you dive into voice command devices.
Apple Siri:
A voice-driven assistant that talks back to you - activated by long pressing the iPhone/ iPad home button and recommends actions to take. Siri recently became a part of Apple TV and Apple Watch.
Skills: Easy to access on Apple devices, understands natural human language. Well- informed about news, weather, sports, movies, directions and local businesses. Well-versed in what to watch on TV, knows how to control some smart home appliances.
Flaws: Does not know how to communicate with most other apps and services. Not always as fast as other voice assistants.
Siri paved the way for modern speech-based assistance, but hasn't gotten significantly smarter over the past few years. Lack of open API means that for example, can't open a song in Spotify, Apple must figure out these types of integrations for Siri to stay relevant.
Google Voice Search/ Google Now
This is powered by the world's largest search engine. It digs through your email and search history to aid you. It resides in Android devices, iOS and Chrome.
Skills: Fast and accurate with directions. It is skilled at withdrawing your personal data for flights, packages, reservations, and other useful information. Has some ability to speak with third-party apps for certain tasks, including notes, messages, and music playback.
Flaws: Attempts at constant proactivity can become a nuisance (direction home from favourite places). No input in the smart home business. Third- party integrations seem to have stalled.
Amazon Alexa
Lives on Amazon audio gear (Echo, Echo Dot, Tap) and Fire TV boxes and is making its way onto other connected devices such as alarm clocks and pet feeders.
Skills: Streams music and can read news from multiple sources. Provides weather, traffic, and other info, and controls a growing number of smart home devices. Allows voice purchases for Amazon Prime items and even lets you order a pizza. Open API lets any app or service link onto it.
Flaws: Housebound with no smartphone integration. May make you question whether you're just a depot for Amazon goods or services.
Microsoft Cortana
Is a voice and text based virtual assistant that's available on Windows, iOS, Android. It combines proactive knowledge with answers to queries.
Skills: Handles reminders and calendar appointments, tracks packages, sets alarms, and taps into Bing for sports, and other information. Hooks into some windows apps, and has recently started talking to other Bots on Skype.
Flaws: Feels most at home on Windows, the platform which is not as mobile as the rest. Has fewer capabilities and is harder to access on iOS and Android.
Bixby
Skills: Aims to please and anticipate your needs. Can edit pictures, send messages, and compose emails on command. Can open an app in split-screen view, remind you where you parked. Anything you can do on your phone via touch, you can do via voice command through Bixby.
Flaws: Slowest in response time and needs specific sentence structure in order to complete a particular command.
Is it just a fad or will it catch on?
Our constant messaging contributes to the popularity of chat bots. Voice assistance can make it easier to interact with people in contexts that feel safe and familiar.
Due to its recent debut, and increase in growth, voice assistance will catch on in both the commercial and private sense. Its advantage of verbally giving commands into your phone, considering how attached we are to it; instead of through touch is one ideal that will catch on and make our lives easier.
While we may be a quite some time away from a complete adoption, the future of voice assistants looks bright with so many options and new functionality being developed.
Concepts like controlling your computer and even your home with your voice was once seen as science fiction movie concepts but could soon be a reality.
Contact us
If you want to know more about mobile marketing and how it can improve your business, then feel free contact us directly here.
Sources: Fastcompany, Digitaltrends, cnet & Wired.com.