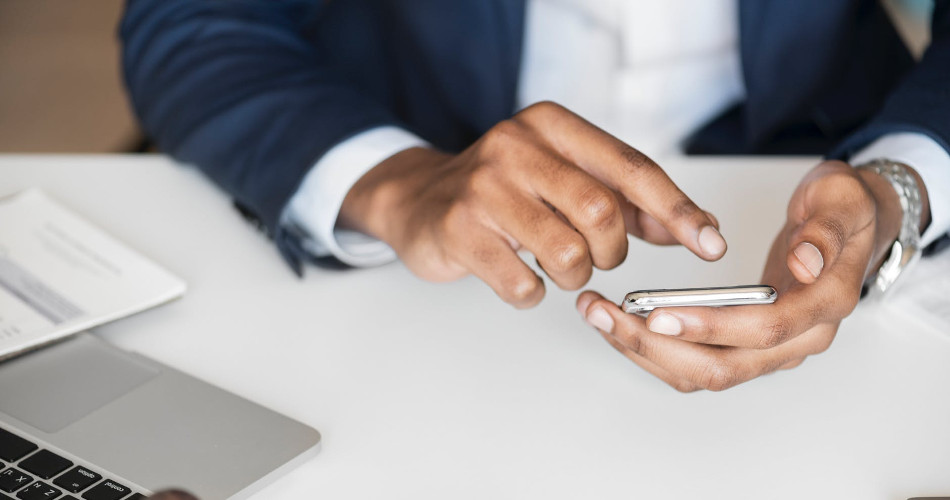 While SMS is known as the one the pioneering inventions that revolutionised the way we communicate, it is this same prestige that has resulted in the underestimation of this powerful and effective marketing tool.
Instead of explaining or trying to persuade you, we will let the facts tell you why you should use text-based marketing; and why it outperforms the rest.
1. Texting is the most-used mobile device feature
The only thing more personal than the phone itself is the standard messaging app, where users spend more time than anywhere else on their device. With approximately a third of millennials globally checking their phone screen at least once every five minutes without being prompted by an alert or notification and 97% of all smartphone users texting their contacts at least weekly; SMS receives the most views.
2. 85% of mobile device users prefer a text from businesses over phone calls or emails
Turns out, when given a choice, customers would rather engage via SMS messaging than by way of voice or email. This means that SMS is the best choice if you want the most effective engagement.
3. B2B (business to business) brands hesitate to integrate texting, creating a low-competition vacuum of opportunity
Ardath Albee, CEO of Marketing Interactions Inc, explains that your business clients are individual consumers who receive text marketing from B2C brands during off hours (think puppy food, car insurance, or local restaurant deals). Why not use this practice to reach your target audient as professional vendors with productivity tools or services throughout the workday?
5. Users don't need to download a new app or learn to navigate a new interface
These days, each new channel comes with a learning curve for both brand and user. Texting doesn't require any new skills.
6. Users don't even need a smartphone or internet access
Whether by choice or necessity, some people carry simpler mobile phones. They don't (or can't) consume web-based data when away from Wi-Fi. They can't consume infographics, streaming audio, social updates, and blog posts; however, SMS is not limited by this.
7. Texts are interactive
Users opt-in to initiate the conversations. Then, keywords keep the interaction dynamic. Receiving a text, opening it, and considering a response puts users in an active role and once again, increase consumer engagement and feedback.
8. SMS marketing is one to one
Often, marketer's time campaigns in hopes of serving audiences 'at just the right time'. With text messaging, the customer dictates when to interact and allows you to help your consumer when they need it.
9. Text exchanges provide customer insights into the contextual relevance
Relevance is both the most prized factor in automated marketing and the hardest to regulate. Texting with a customer demonstrates context clearly and accurately on demand. When a person replies "ROI" in the scenario below, for example, you know what information they want and that they want it immediately.
10. User behaviour shows customers desire text support
Research shows the majority of users would pay more for a product or service that comes with text support and feel more optimistic toward brands that offer mobile messaging. Nearly half the respondents said they would even choose one product over another based on the availability of text messaging.
11. Open and click-through rates outperform email
While email marketing is seen as the number one most effective channel for most marketers, SMS has a higher open rate and a response of fewer than 5 minutes; beating email's open rate of 22% and response time which could take up to 90 minutes, 5 days, 5 months, or whenever they happen to come across your email.
12. You can use shortcodes to simplify response and build your database
Have your customers make the first move by adding a shortcode or keyword to pattern collateral, advertisements and advertising boards as well as social media. This strategy means that customers soon become familiar with a brand's code and keyword and are therefore more likely to engage and respond.
13. It can support and integrate with other channels
It is essential that all channels work well together within the marketing mix and SMS is no exemption. SMS is a great individual channel, however, it also has the ability to heighten and support other marketing mediums, such as social media and email.
14. Response data enables you to monitor, track and improve
Tracking meaningful ROI, identifying customers engaging via text message and monitoring delivery rates are all possible through SMS producing the realities to the misconception of SMS being an un-trackable channel and making it being seen as a useful marketing tool.
By using these stats, businesses can create advance targeted campaigns and repeatedly build a better understanding of their mobile database. Not only does it mean they save money and improve ROI but by profiling and segmenting out numbers that are least likely to respond, SMS allows a company to target those customers via email or another channel.
15. Measure your ad value
With so many customer acquisition points with SMS programs, brands can easily track where users are texting in to join and measuring the relative effectiveness of that advertisement. This allows marketers to quota advertising in a way like never before and is a valuable tool for marketers.
16. Sell more and drive awareness
While email may be the medium of choice to drive online sales, SMS promotions drive engagement to bring consumers in-store.
Once in-store, the consumer is more likely to buy other attractive products, and a consumer's basket size is typically three times larger than if you drove their purchase online.
SMS gets your consumer in the store and opens their eyes to surplus offerings they might not otherwise have been interested in.
Remember:
Your SMS marketing will be successful if you use it to serve your customer first, not your brand.
Additionally, if used correctly, your brand will be positioned your brand as friendly and useful. Lastly, these text exchanges put users back in control of the conversation so brands can progress, and, ultimately, serve.
Let Us Help You Innovate Your Messaging Services
If looking for communication solutions to reach your audience, why not contact us here, and we can devise the perfect communications strategy for your business!
iTouch is one of the few messaging companies in Africa that abide by GDPR and POPI security standards. Let us worry about the legal and security protocols so you can focus on growing your business.
Sources: