MEF's (of which iTouch is a member) recently published Enterprise Mobile Messaging Fraud Framework 2.0, developed by MEF's cross-sector Working Group and part of the Future of Messaging Programme, identifies the 13 types of fraud that are affecting the messaging ecosystem and the measures needed to tackle these sharp practices.
How to identify A2P Messaging fraud
Over the coming weeks, iTouch will explain each fraud type in more detail.
For the latest on the fraud frame work check out our article The Global Fraud Messaging Guide Updated For 2017
Fraud through SMS spoofing
The first type of messaging fraud we will focus on is SMS spoofing, a very popular scam that targets consumers by fraudulently claiming to be popular brands or service providers.
Definition of SMS originator spoofing
SMS Originator Spoofing [Spoofing] is the act changing an originator to hide a sender's true identity and trick a consumer into thinking a message is from someone they know or a legitimate commercial entity.
For example, by spoofing a short code or falsely using the originator "Apple", or "HMRC" [UK Tax Office] or [your family member].
Diagram of SMS spoofing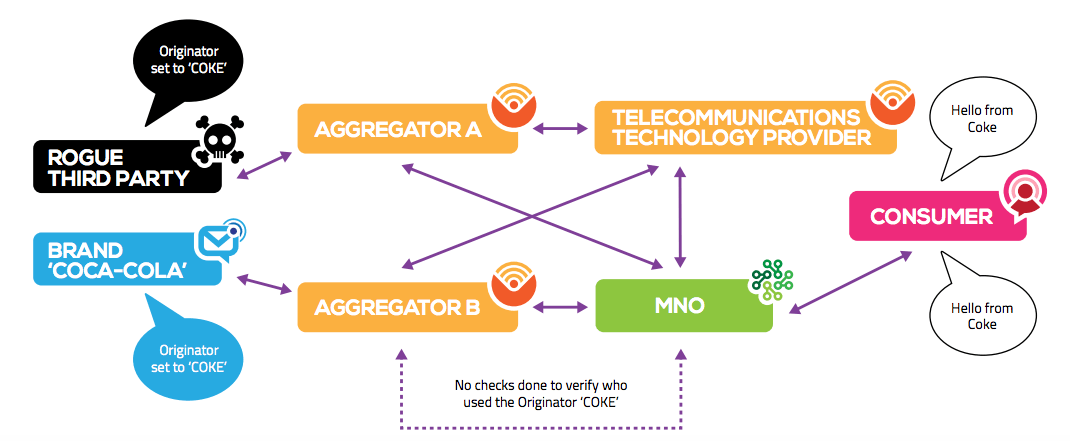 How SMS spoofing works
How SMS originator spoofing is done
Lead generation by pretending to be a known company to verify whether a MSISDN is live and active, or to generate new business, eg, a sender pretending to be Vodafone to determine if a Vodafone customer's contract is due for renewal
Using a short code which offers a two-way reply path to return a consumer's response to a rogue third party instead of a legitimate enterprise
Sending unwelcome or abusive messages to an individual but pretending to be someone else
SMS Phishing to extract sensitive personal and confidential financial information to try and steal from a mobile subscriber
Example of SMS spoofing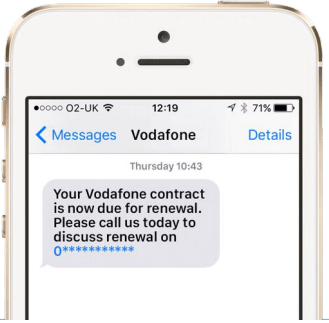 A spoofed SMS
Contact us
If you're company is a victim of SMS spoofing and would like to know more about how to prevent spoofing or you're looking for a trusted bulk SMS service provider then contact us here
source: MEF