iTouch Messaging Services Since 1995
iTouch Messaging Services has been around over 20 years and in that time we've seen and been through it all.
After over 2 decades in operation, we thought it fitting to take time and to reflect on how far we've come as a company and recap on our journey.
Join us on our journey through the past and we'll show you how we've grown into one of the leading telecommunications service providers in Africa.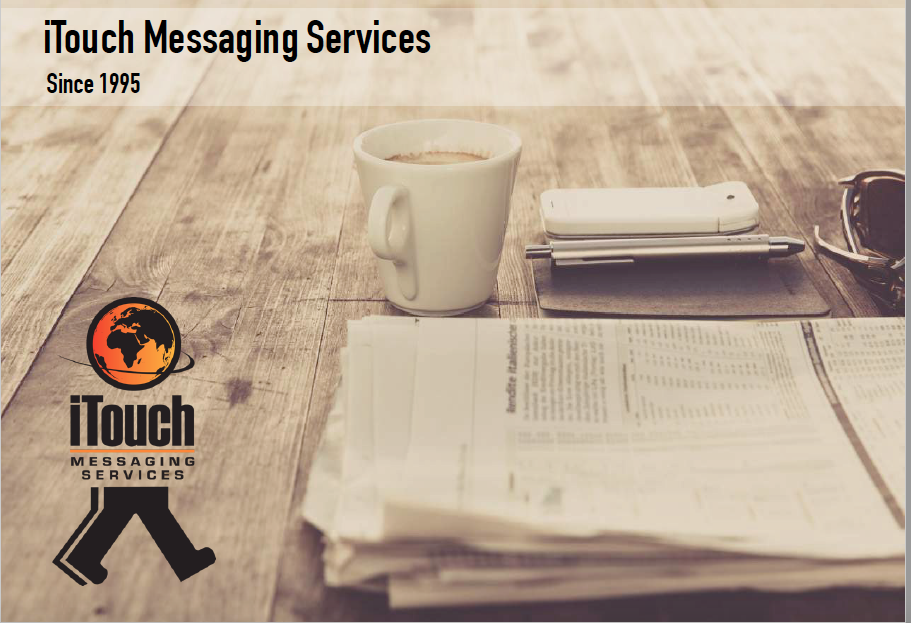 Introduction
As one of the world s leading providers of specialised messaging products and solutions, iTouch provides wholesale solutions to hundreds of Corporates, SMS aggregators, and resellers across the world.
iTouchs' in-house developed high-performance messaging platform delivers SMS MT, MO and Number Context services covering over 800 operators in 160 countries.
Our constant strive for innovation allows us to bring to you the next generation of messaging, like the feature phone to smartphone, our development team presents from SMS to MEMS, our own Multi-Channel Embedded Messaging Service the generation of interactive messaging
Background
iTouch Messaging Services was originally part of iTouch (Pty) Ltd, founded in South Africa in 1995
Awarded the Vodacom New Product Development agreement in 1997
Independent News & Media - 70% stake in November 1999
Listed on the LSE in August 2000
iTouch Messaging Services was sold in 2009 and placed back in the hands of South Africans
The original Management Team today remains the driving force and focus providing its long-standing customers ongoing quality, service and reliability
Credentials
One of the pioneers of value added services and specialised messaging products since 1995
iTouch provides wholesale solutions to hundreds of Corporates, SMS aggregators, and resellers across the world. The majority of our clients have been with us for more than 20 years
A highly knowledgeable team with over 50 years collective experience in the mobile and digital media industry
Direct connections to all major networks GLOBALLY
Stable and secure messaging infrastructure, certified by leading banks
Industry leading Service Level Agreements (SLAs), dedicated 24/7 support
Strict regulatory compliance policy
We specialise in the Banking, Services and Retail sectors
Our services put us on the map
We cover a host of mobile marketing and bulk messaging services geared to client needs and leveraging the latest technology available to us.
Bulk SMS Text Messaging
High-performance bulk SMS text messaging for enterprises and developers. Available over SMS APIs, SMS portals and mgate integrated solution.
2-Way SMS
Send and receive SMS directly into applications. Get a mobile number - short code or virtual long number - to run SMS sweepstakes and loyalty programs. Try our SMS Campaign Manager!
Number Context Active? Ported? Roaming? Mobile number validation, great for database cleaning. Reduce costs by keeping your mobile numbers database up to date! mobile numbers database up to date!
Campaign Manager
This is a complete SMS marketing solution, allowing you to run 4 types of SMS marketing campaigns - broadcasts, polls, sweepstakes and coupons.
USSD Interactive Services
Deliver OTPs and questionnaires over this menu-driven GSM channel, available on any mobile phone. Network initiated USSD supported.
Text 2 Voice
With our Text2Speech solution you can deliver a voice message to your users to any fixed and mobile phone, in the world. Use a simple, automated way to call a large number of people and deliver a pre-recorded, or a text-converted voice messages. Localised messages do the trick and make a difference in consumer interaction.
Use voice calling to communicate your text message in 18 languages. Developers can use our Text2Speech API to upgrade their existing apps and platforms.
2 Factor Authentication
In many cases more than just a password is needed to achieve an adequate level of security. SMS-based 2-factor authentication increases security exponentially. iTouch can deliver SMS messages to all mobile phones whilst the device easily turns into a tool for providing an extra layer of security without investing into additional hardware.
mGate, our Enterprise Messaging Gateway
mGate business messaging gateway provides enterprise clients with full SMS messaging, push notifications and capabilities, including 2-Way messaging (inbound SMS reception), mobile number validity lookups and full in-depth reporting and statistics. It has several integrations and deployment options, global coverage and 24/7 specialised support.
End-to-end security is achieved through VPN tunnelling and strong encryption. Our services have been recognised to conform to the highest of industry standards with certifications for global quality management (ISO 9001), information security (ISO 27001) for messaging services. Furthermore, the company is PCI DSS compliant, capable of handling sensitive cardholder data as required by the Payment Card Industry Data Security Standard.
mGate, our Enterprise Messaging Gateway Automated, event-based messaging mGate is a robust SMS messaging solution aimed at enterprises who handle large amounts of data, primarily banks and financial institutions.
Its event-based messaging feature allows you to set up an automated messaging flow and then rely on database integration to send SMS messages whenever an actionable event occurs. mGate is used by over 100 financial institutions across the globe, as well as a range of other businesses and organisations
MEMS Multi-channel Embedded Messaging Service
MEMS (MultiI-channel Embedded Messaging Systems) leverages the popularity and familiarity of the SMS bearer, whilst providing a rich and limitless multichannel experience.
MEMS the new rich marketing messaging tool to replace SMS and MMS MEMS is a flash mobi-site easily created in minutes for a specific campaign, even by an average user MEMS when published each customer receives a unique link to the campaign MEMS the ability to track and mine customer behaviour The MEMS Mobiz platform is highly adaptable, scalable and robust.
iTouch foundation mission:
To assist in transformation and improvement of the standard of living for Africans through partnerships, skills development, mentorships and volunteerism. Encourage entrepreneurship and poverty alleviation. Objectives:
We provide opportunities for learning and development with a focus on media, communications and information technologies. We currently support individuals, organisations and NGO s working with young people, for example, Aim: To foster partnerships locally and internationally that will raise awareness and support for young Africans who are interested in media, communications, information technologies, Apps, Gaming and to new technologies
For more information on us feel free to download our presentation covering everything in this article. Download it here
Contact us
If you want to work with a dependable messaging service provider with years of experience feel free to contact us here