As technology continues to advance and innovate, so does the world of mobile phones. With mobile phones becoming the favourite tool for every aspect of our lives, the prediction is that the number of users will increase significantly by 2022.
With this forecast in mind, let's look at what this means for the mobile industry.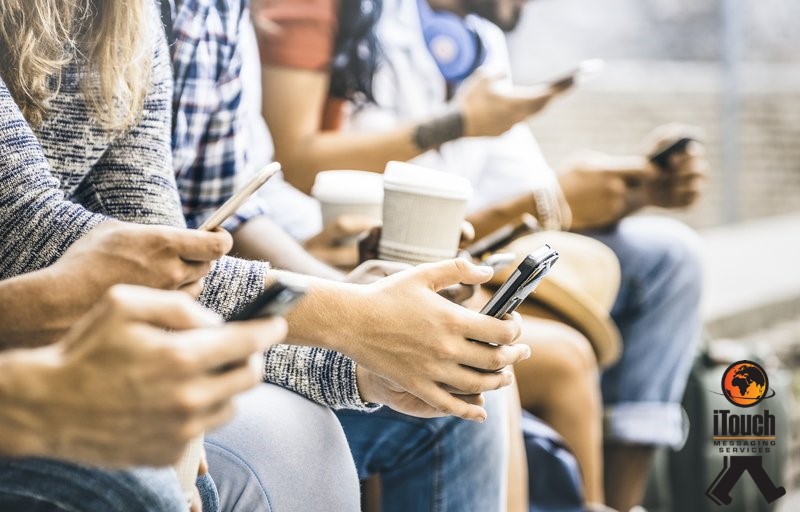 Why does mobile continue to grow?
Due to its popularity, it should be no surprise that the number of smartphones users is on the rise. The global technology research and consulting firm's Quarterly Mobile Phone Tracker found that feature phones hold the majority share (62.2%) of the region's overall mobile phone market as they sufficiently address the needs of consumers who have limited purchasing power and need a reliable long-lasting mode of communication, mainly in rural areas.
Ramazan Yavuz, a research manager at International Data Corporation (IDC) adds that:
"While Nigeria continues to recover from recession and consumer spending is on the rise, there are also clear signs of improvement in South Africa. The end to the political crisis means that challenging economic conditions will be addressed as a priority by the new government, which will have a positive effect on consumer confidence and spending on mobile phones."
Additionally, another factor for this growth found through IDC's research is that 4G phones are increasing in popularity, and accounting for a bulk share of the smartphone market at 56.8%.
With such factors, there is set to be a steady increase in smartphones consumers in South Africa by 2022.
Stats on mobile growth in South Africa
In order to understand the directions of South Africa's mobile industry, let's look at Cisco's Visual Networking Index (VNI) Global Mobile Traffic Forecast, for 2017-2022.
The report forecasts that mobile data will reach close to a zettabyte (one trillion gigabytes) milestone by 2022, with mobile traffic holding 20% of global IP traffic. Additionally, smartphones will exceed their 90% share of total mobile data traffic and mobile videos will account for 79% of mobile data traffic.
This forecast also predicts that the innovation of 5G will account for 3% of mobile connections and nearly 12% (9.2 EBs/month) of global mobile data traffic.
Further predictions state that :
4G connections will grow 2-fold and will account for 54.3% of total mobile connections.
4G traffic will grow 7-fold, CAGR of 46% and account for 70.7% of total mobile data traffic.
Other compelling figures include M2M connections, IOT growth as well as role and coverage of WIFI.
However, what is the specific predictions for South Africa? Cisco's study found that:
Mobile data traffic will grow 9-fold from 2017 to 2022, a compound annual growth rate of 54%.
Mobile data traffic will reach 1.2 exabytes per month by 2022, up from 133 petabytes per month in 2017.
Mobile data traffic will grow at 54.3% CAGR, 2.2 times faster than fixed IP traffic CAGR of 24.2% from 2017 to 2022.
Mobile data traffic will account for 49% of South African total IP (fixed and mobile data) traffic by 2022, up from 24% in 2017.
The gigabyte equivalent of all movies ever made will cross mobile networks every 5 hours by 2022.
Mobile traffic per mobile-connected end-user device will reach 12.0 gigabytes per month by 2022, up from 1.5 gigabytes per month in 2017.
Mobile traffic per mobile connection (including M2M/LPWA) will reach 10.0 gigabytes per month by 2022, up from 1.4 gigabytes per month in 2017.
Mobile traffic per user will reach 24.5 gigabytes per month by 2022, up from 3.0 gigabytes per month in 2017.
Mobile traffic per capita will reach 19.3 gigabytes per month by 2022, up from 2.3 gigabytes per month in 2017.
There will be 47 million (78% of South Africa's population) mobile users by 2022, up from 44 million in 2017, a CAGR of 1.2%.
For a better understanding of these predictions, read up Cisco's Press Release
How to use mobile marketing in this growing sector
With 25.5 million smartphones users predicted by 2022 and 5 million of those users being South African, it equates to one-third of the country population. With these numbers, businesses need to get ahead of the times and join the mobile marketing revolution.
In order to connect and reach your consumers, businesses need to use the mobile medium to connect and engage with their clientele. Additionally, many smartphones users are attached and constantly active on their phones, making mobile marketing one of the best mediums of choice.
Mobile e-commerce covers the transaction of mobile shopping, mobile banking and mobile payments. These transactions are becoming huge competitors within the business sector. This is due to it becoming a favourite medium of choice for consumers to shop, purchase and pay for almost everything.
Additionally, almost 60% of all searches and social media activity is taking place via mobile devices. Such trends encourage businesses to go digital and optimise their websites to be mobile first and friendly.
Thinking Mobile
The growth of the mobile industry which continues to innovate and transform is set to continue this trend come 2022. However, these predictions do not solely show us the future of the mobile but also its power. It is time for businesses to think mobile, as it is the medium of the future.
Let us help you reach your customers
Let us deliver your message to your customers with our range of communication solutions. As experts on the African continent, we can devise the perfect communications strategy for your business. We're a trusted partner for many companies as our enterprise messaging, and value-added services offer our clients a robust, scalable solution with global reach.
To find out more about our services contact us here
Sources