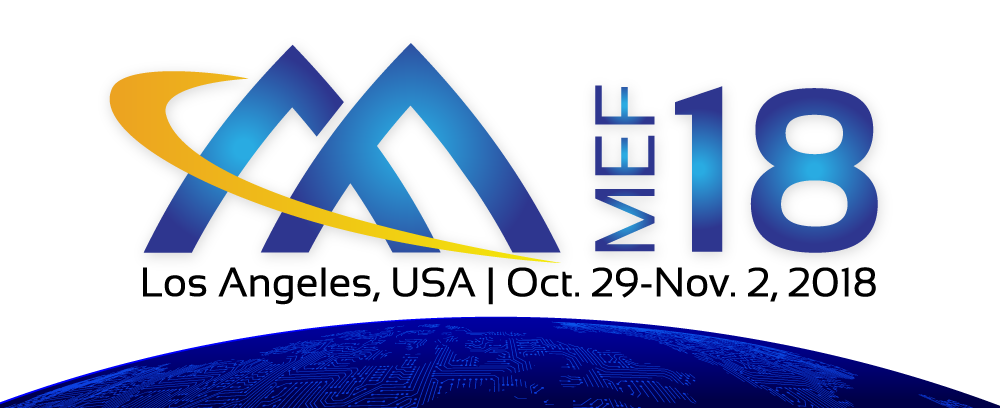 The time of year has once again arrived for the Mobile Ecosystem Forum (MEF) to hold their annual conference. We wait with baited breath to see all the exciting things this conference will unleash on the industry, occurring from 29 October – 2 November 2018 at the JW Marriott Live in Los Angeles.
It is with this post that we thought we should increase that excitement by enlightening you regarding who will be the speakers at this conference. However, before we get into the nitty gritty let's first get some background.
About MEF18
MEF focuses on empowering agile, assured, and orchestrated communications services for the digital economy.
Emerging "MEF 3.0" services provide an on-demand experience with user- and application-directed control over network resources and service capabilities. They are delivered across a global ecosystem of automated networks powered by LSO, SDN, and NFV.
Why Attend?
Attendees have consistently rated MEF's global events among the best in the industry. This must-attend event sees 1,000+ attendees from 275+ companies and 35+ countries.

MEF18 boasts that they uniquely empower industry stakeholders with high-quality content, extraordinary peer-to-peer networking opportunities, and valuable insight into cutting-edge services and technologies. Have a look at the official MEF18 event video for more info:
The All-Star Speaker Line-up:
On the 10 of September 2018, MEF an impressive list of world class of more than 110 services and technology speakers for this event. Here is look at the speakers to expect so far:
Service & Interconnection Providers
Marc Halbfinger, CEO, PCCW Global
Eric Cevis, President, Verizon Partner Solutions
Kyle Malady, Chief Network Operations Officer & Acting CTO, Verizon
Aamir Hussain, Executive VP & CTO, CenturyLink
Brian Lillie, Chief Product Officer, Equinix
Michael Strople, President Allstream, Managing Director – Canada, Zayo Group
Kevin O'Toole, SVP, Product Management, Comcast Business
Shawn Hakl, SVP Business Products, Verizon
Jean-Claude Geha, SVP of International Services & Technology, Deutsche Telekom AG
Stefan Schnitter, SVP Infrastructure, Deutsche Telekom Pan-Net
Josh Goodell, VP of Intelligent Edge, AT&T Business
Satya Parimi, Group VP, Data Products, Spectrum Enterprise
Franck Morales, VP of Marketing Connectivity Services, Orange Business Services
John Paul Hemingway, CEO SES Networks
Mirko Voltolini, Head of Network on Demand, Colt Technology Services
Jeff Lewis, VP of Product Management, Comcast Business
Adam Saenger, VP of Product Management, CenturyLink
Divesh Gupta, VP Technology and Sales Operations, PCCW Global
Luigi Migliaccio, VP Voice, Data & Messaging, International Delivery Unit, Deutsche Telekom
David Hughes, VP of Engineering, PCCW Global
Bart Oskam, CTO, Eurofiber
Shahar Steiff, AVP New Technology, PCCW Global
Andy Mayer, PMTS, Network Cloud and Infrastructure, AT&T Labs
Daniele Mancuso, Director of Innovation & Engineering, TI Sparkle
Brendan Gunn, Director of Product Marketing, Verizon Partner Solutions
John Isch, Director of Network & Voice NAM, Orange Business Services
Oleg Berzin, Senior Director of Technology Innovation, Equinix
Jack Pugaczewski, Distinguished Architect, CenturyLink
Ralph Santitoro, Head of SDN/NFV/SD-WAN Services, Fujitsu Network Communications
Enterprise
Bill Martin, CIO, AEG (ownership in Staples Center, LA Lakers, LA Kings)
Gert Vanderstraeten, Principal Enterprise Architect, IT Infrastructure Services, Microsoft
Michael Martin, Networking & Security Architect, McKinsey
Technology Solutions Vendors
Kevin Sheehan, CTO of the Americas, Ciena
Patrick Ostiguy, President & CEO, Accedian
Dave Stehlin, General Manager, Lifecycle Service Assurance, Spirent
Steve Vogelsang, CTO, IP & Optical Networks, Nokia
Hayim Porat, CTO, ECI
Steve Marsh, CTO North America, Intraway
Looking For More Information on MEF18?
Regarding this event, check out the MEF18 agenda and speaker line-up which is accessible via the official MEF18 event site.
Reach Your Clients with the Most Secure Mobile Messaging Services in Africa
If looking for communication solutions to reach your audience, why not contact us here, and we can devise the perfect communications strategy for your business!
iTouch is one of the few messaging companies in Africa that abide by GDPR and POPI security standards. Let us worry about the legal and security protocols so you can focus on growing your business.