iTouch Bulk SMS Platform
Cape Town, 21 August 2017 - We, at iTouch Messaging Services, have enhanced our bulk messaging platform to make it simpler and more efficient for any user. It is a self-provisioning platform that gives you the power to plan, manage, monitor and magnify all your campaigns anywhere, anytime and on any device.
The characteristics of this platform
The product is a web-based bulk SMS platform that can be used for marketing, gathering of information, event promotion and so much more. It allows you to be in control and complements any fast paced working environment.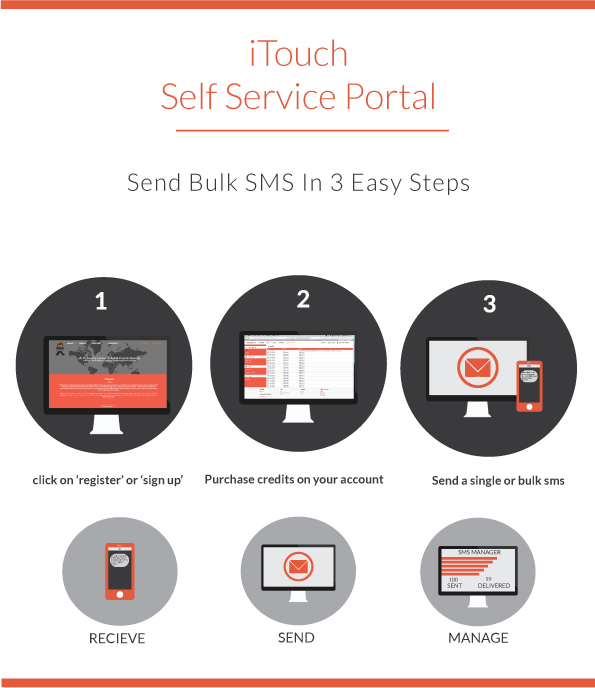 Why it works for you
We, at iTouch, decided that it was time to introduce this service because of the high demand for a self-provisioning platform where you, the user, have more control of customer communications. Many firms can reduce operating costs by handling their marketing and communication tools internally.
This platform allows you to increase the value of your business through increased customer loyalty due to effective interaction with customers. A successful brand is built upon your relationship with all the stakeholders involved in your company. Here are a few benefits to make your decision easier:
Promote any new products and offers, immediately.
Strengthen your level of customer retention through effective interaction.
Build brand loyalty through instant notifications.
Easily advertise any upcoming events to your database of users.
Communicate key issues with colleagues or employees in any department.
Enable the message recipients to easily interact with you.
The platform is stable, reliable and cost effective. It allows you to reach more users by using only one platform and it can be used by both large corporate firms and smaller sole proprietors.
About iTouch
iTouch Corporate Messaging Solutions is a bulk messaging service company that is proudly South African and has over 50 years experience in the mobile and digital industry.
It has achieved level 2 BBBEE status. The original management team also remains the driving force behind this company. This factor allows it to continue providing quality and reliable services to its clients. The company is constantly innovating ideas to satisfy their customers and enhance user experience.
Keeping up with technology is key to business growth. Don't miss out on this opportunity to get ahead.
Sign up now at www.itouchbulksms.com and receive 50 free credits.
Contact
Contact us here.
Social media:
Twitter – @iTouch_IMS
Facebook – www.facebook.com/ItouchSA
LinkedIn – www.linkedin.com/company/itouch