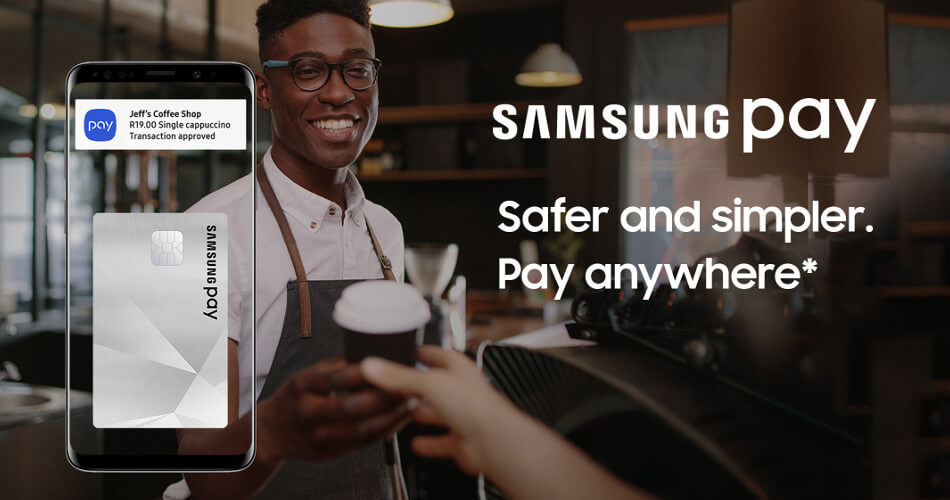 With apps such as Snapscan, it should not be surprising that a competitor has risen to contend with making our smartphones, the MacGyver to our lives.

Samsung has just launched Samsung Pay, an app that takes away the hassle of reaching for your card and decreases the duration it takes to pay. And since we are always on the go, this will become our new best friend.
The Tech Behind Samsung Pay
Samsung Pay uses NFC transmission and Magnetic Secure Transmission (MST) to action payments.

Now NFC stands for Near Field Communication which allows two devices placed within a few inches of each other to exchange information. This means that NFC allows your smartphone and the card machine the ability to share the relevant information.

Secondly, MFC stands for Magnetic Secure Transmission which technology used in devices to emit a magnetic signal which mimics the magnetic strip on a traditional card payment card.

Essentially, Samsung Pay using this technology replaces the payment's card completely.
How Samsung Pay Works
Let's look at how it works:
Registration
Login with your Samsung Account.
Register the fingerprint you'll use for payment.
Register the pin you'll use for payment.
Scan the front side of a card you want to register.

After the identification process

,

enter the verification number

.
Write your signature to complete card registration.
Payment
Start Samsung Pay by either swiping up on the screen or opening the Samsung Pay app.
Select the card you want to pay with by swiping left or right.
Authenticate using your iris, fingerprint or with your 4 digit Samsung Pay PIN.
Place your phone near the magnetic card reader or NFC reader to complete the transaction.

For a more visual explanation, watch the official promo video below:
Security
When you add a bank card to Samsung Pay, a device-specific digital card number that is utterly different to your actual card number is produced by Visa or Mastercard through tokenisation that represents your physical card.
The digital card is stored in a Secure Environment using Samsung Knox technology to safeguard your payment information. Since your physical card details are not stored by Samsung Pay; every time you make a Samsung Pay transaction your physical card information is never used - making it more secure than transactions with your plastic card.
The Samsung Pay app verifies your identity with your Iris, Fingerprint or 4 digit Samsung Pay specific PIN, to ensure each payment is authorised by you.
Can It Be Used Online?
Regrettably, this feature is not active yet in South Africa. However, with regards to using Samsung Pay in foreign countries, they advise that you check your bank's policies concerning transacting in foreign countries
Which Devices Are Compatible?
Samsung Pay is accessible on the latest premium Galaxy smartphones.
Which Banks And Card Are Currently Supported?
Card associations: Mastercard and Visa
Supported Banks: Standard Bank and Absa
Additional cards: Avios, British Airways and Virgin Money
Can You Really Use Samsung Pay Anywhere?
Samsung Pay can be used almost anywhere, as long as they have the Magnetic Secure Transmission (MST) technology.
However, a merchant that does not have a contactless payment terminal can still accept Samsung Pay at their own discretion.
Time To Samsung Pay And Go
Now that you know how it works, it is time to the join the evolution and makes your life that much easier.
Contact Us for Innovative Solutions
iTouch is one of the few messaging companies in Africa that abide by GDPR and POPI security standards. If you need assistance in building effective messaging solutions for your business, contact us to see how we can help.
Let us worry about the legal and security protocols so you can focus on growing your business.
Sources: