Everyone's fun-loving photosharing app turned social media network continues to try and become a relevant eCommerce tool with new monetization tools in order to facilitate trade between consumers and businesses on its platform. Instagram sneakily added a native payments feature to its app for users.
Spending money on social media apps has always been a department that middlemen would handle or transactions would be handled off app. So it was only a natural next step for Instagram to make a play for eCommerce.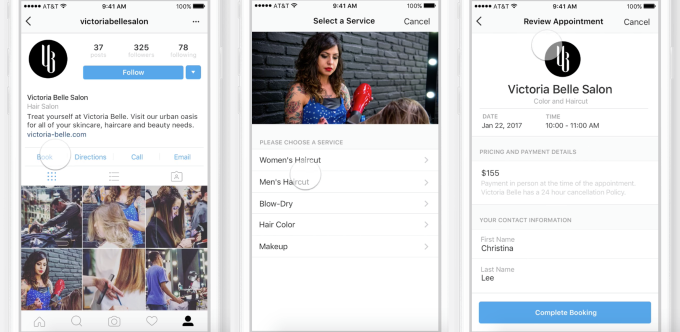 Instagram in-app booking
What is the payment feature all about?
Instagram has quietly rolled out a feature that enables users to make payments natively on its app, as it continues on its journey to becoming a major commerce player. It lets users register a debit or credit card as part of their profile and set up a security pin. For now, the payment option is available to some users via a limited number of partners in the US and the UK.
It enables users to book tables at restaurants, make appointments at salons, and eventually book tickets for movies and events. This will allow you to start buying things without ever leaving Instagram. This means that you do not have to go to a separate website and having the hassle of entering payment information any time you want to purchase something.

"Shoppable Tags"
First introduced in the US toward the end of 2016, the Facebook-owned app's existing shopping functionality enables businesses to tag products in their posts with links to their shopping site. Since then, it has rolled out the feature to several other countries around the world.
It's possible that the payments option will work with Instagram's "Shoppable Tags," which first started testing in 2016 to let you see which products were in a post and tap through to buy them on the brand's site. Since then, Instagram has partnered with storefront platforms Big Commerce and Shopify to get their clients hooked up, and expanded the feature to more countries in March. For now, though, none of Instagram's previous shopping feature partners like Warby Parker or Kate Spade let you checkout within Instagram, and still send you to their site.
But the whole point of Instagram not allowing links in captions is to keep you in a smooth, uninterrupted browsing flow. Getting booted out to the web to buy something broke that.
While Instagram's existing "Shoppable Tags" feature forces you out to a business' website to make a purchase, the new payments feature avoids all that.
What to remember
Although visible in the payment settings, not all users are able to access it. Given the fact that this is a trial version and is in its testing phase, some and not all users have it in the U.S. while some in U.K. don't.
This feature eliminates the dire process of looking up into multiple websites and entering relevant payment information to make a purchase. In-app purchasing is a lot simpler and time-efficient.
Although the initial partners for Instagram's e-commerce belt are limited, it might as well start booking movie tickets.This is not a service-wide roll out yet but as an obvious future has booked a place in the area of e-commerce.
With a near-infinite story feed, Instagram has been a curator for products and services on the platform and this initiative surely serves as a venue for a hassle-free business. Apart from these recent extensions, a bunch of other new features for Instagram align themselves including Spotify and GoPro integrations, bully filters, new camera effects, video chat and one renovated "explore" section.
The future of social commerce
Instagram Payments could make impulse buys much quicker, enticing more businesses to get on board. Even if Instagram takes no cut of the revenue, brands are likely to boost ad spend to get their "shoppable" posts seen by more people if the native payments mean more of them actually complete a purchase.
However, Instagram isn't the only one who sees this potential. Snapchat started testing its own native payments and checkout feature in February. This 'shoppable' AR lenses enables brands to add a button to their lens with a link to a product purchase page.
Facilitating trade via these social media platforms will allow their advertising to be more effective, improve conversion rates and increase advertising spend on these platforms.
Contact us
If you want to know more about app development and mobile marketing and how it can be applied to your business, then feel free to contact us here.
Sources: