In this day and age, an image is everything, humans are visual creatures and we love a great snapshot. The phrase a picture speaks a thousand words has never been truer that right now. Every image sends a message and aims to show the best representation of ourselves, which is clearly evident when scrolling down any social media feed.
Since the introduction of Smartphones, this scene has exploded as the device has made it easier to take and share "professional" photographs with our friends and the world in an instant.
With high-resolution cameras attached to our mobile phones, there is no need to pay someone to take those high-quality images but is simply available to us with one touch. The increased demand for the best and unique image has led to photography apps becoming our new best friend in attaining that perfect picture.
Smartphone photography has given everyone a chance to capture stunning images. However, if you want to stand out and improve your Smartphone photography skills there are a range of apps you can add to your arsenal.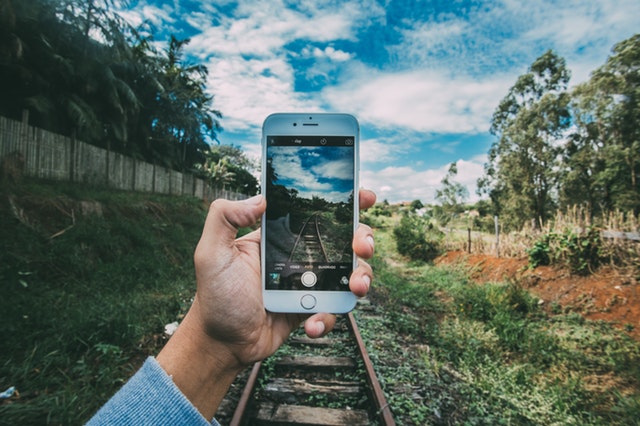 Smartphones have disrupted the photography industry
Here are the 10 photography apps that will set you apart from the rest:
Camera+ (Apple)
This all-in-one app is an instantaneous upgrade to your iPhone or iPad. Camera controls are kept to a minimum, letting you simply touch to establish exposure and focus. The app includes an image stabilizer and timer modes. As well as, handy editing features, filters and captions to enhance your images. The iPad version adds red-eye removal, white balance and other editing options.
Fast Burst Camera Lite (Android)
This boasts to be the fastest camera app for Androids. It can shoot a surge of high-resolution photos at up to 30 frames per second. It's flawless for capturing sporting events, busy parties or analysing a golf swing frame-by-frame. Simultaneously, it comes with a built-in photo editor.
Photosynth (Apple and Windows Phone)
This offering from Microsoft creates magnificently seamless 360-degree panoramas. Pick a spot, hold up your phone and tap the screen to start. Then simply pan your phone up, down and around to construct a completely immersive wraparound experience. It has to be seen to be believed — and it takes no effort to send the resulting "synths" over email or post them to Facebook.
Instagram (iPhone, Android & Windows)
Apart from being one of the world's most popular photo communities, Instagram is a fast, hassle-free photo editing app. Its filters are satisfactory for most people, but not for power users. For those images that you want to share with your world with some of your favourite and basic filters; instagram is the app for you.
Cinemagram (Apple, Android)
Ever heard of cinemagraphs? They mix video into still photos to create fun, eye-catching animations. Cinemagram simplifies the entire process. You record a short video clip, then swirl your finger over the image to choose which parts of it to freeze and which to animate. It sounds complicated but it's really not — you'll be creating amazing and hilarious images in seconds. These "cines" (also known as animated GIFs) can then be shared online.
Snapseed (Apple, Android & iOS)
This powerful and comprehensive image editor from Google has the most sophisticated editing features (and there are lots of them) with just a tap or swipe to use. While it works on smartphones, the ultimate way to experience Snapseed is on an iPad or Android tablet. You can even download and edit pro-quality raw files direct from digital SLRs (with an optional connector kit).
For power users, Snapseed has the selectively adjust feature. This lets you change contrast, etc. on any part of the photo, without editing the whole picture. Snapseed's filters range from great (Grunge, Retrolux, Vintage) to average (Drama, Black & White).
Flickr (iPhone, Android, Windows Phone)
Like Instagram, Flickr has a great community of photographers. Unlike Instagram, however, Flickr has advanced editing tools, which is better for enthusiasts. An additional advantage is that Flickr doesn't confine you to square photos. Its built-in filters are fairly good too. The only major negative is that Flickr's Windows Phone app isn't as good as iOS and Android variants.
VSCO Cam (iPhone, Android)
VSCO (pronounced Visco) Cam started out as a paid app but went free last year. It is one of the best photo editing apps on iOS and Android if you want advanced controls. VSCO Cam has a great collection of filters, which are better than those on Instagram. While some filters are free, you'll have to pay for many others. Don't let this dissuade you from trying the app, as the free filters are good enough for most people.
VSCO Cam's editing tools include brightness, contrast, saturation, tint, crop, rotate, sharpness, highlights, shadows, among a few others. As evident, it has enough tools for professional photo editing
However, beginners will take some time to figure out how to use VSCO Cam because the app relies on icons and code numbers instead of words. For instance, filters have names like B1, X1, etc., which may be hard to remember initially. All editing tools are icons (sharpness is a triangle, saturation is a rectangle with a gradient, etc.) and it may take you a little while to go through all the tools and find what you need.
Prisma (iOS & Android)
Prisma allows you to turn your photos into painting or drawing with a very wide range of filter options. You could turn a cityscape into a Mondrian painting, or make your snap of the countryside look like the work of an early Impressionist.
You'll need an Internet connection to make the powerful filters work over your photos, but the results can be stunning. Prisma creates the feel of your image being a one-of-kind image and uniqueness, which highly works in its favour.
Pixlr (Apple & Android)
The Pixlr family of image editors has something for every photographer. The Pixlr-o-matic app for beginners offers cheesy colour effects, retro colours and vintage borders. When you've outgrown that, the Pixlr Express app is a good choice for cropping, resizing, removing red-eye and adding hundreds of filters.
If you want to zoom into images and adjust individual pixels, there's even a Web-based Pixlr editor for your home computer. As you'd hope, all the apps perform courteously with one another and have similar controls, making the transition from app to other easy as pie.
The Verdict
There you have it, 10 Smartphone apps that will change the way you use your Smartphone camera. With so many options available, you can never ditch all the selfies, try something different and turn the ordinary into a visual masterpiece. Pick one or more of these apps, get out and about and capture the world with "professionally" photographed images.
Contact Us
If you want to know more about how mobile marketing or app development and how that can be applied to your business, feel free to contact us here
Sources: Telegraph, Gadgets & Next Avenue