With the increase in technological advances, the gap between the consumer and the business are lessening each day. Through the innovation of SMS and email, businesses have been able to cast their net further, in growing and reaching their target audience. However, a new tool is slowing becoming the next best marketing tool to reach consumers. This is known as Mobile Marketing Automation.
Additionally, with mobile-only internet use increasing from 36.6 million users to 40.7 million users. Mobile is getting bigger and mobile marketing automation may be as commonly used as traditional marketing automation.
However, before we delve into how to use this new marketing strategy, let's look at what Automated Mobile Marketing is.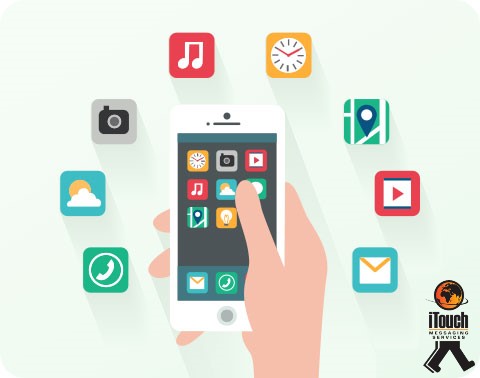 What is mobile marketing automation?
Marketing automation is traditionally understood as marketing to desktop users via email and social media channels. However, the growth of mobile technology desires another kind of marketing automation: mobile marketing automation.
Mobile marketing automation provides the tools to help manage and build multichannel campaigns, with the aim of running customer relationships at scale. Moreover, "automation" here does not equal "automatic." - it does not do the work of branding or writing copy for you but enables you to spread and personalise your message to a much larger audience.
Marketing automation stores information about your contacts, allows you to section your contacts into lists or groups based on any criteria you stipulate and helps you regulate which messages those contacts see. While many have had to manually manage a small group of customer relationships with any level of attention to relevance and personalization, mobile marketing automation creates a similar experience for thousands or millions of users – increasing your scale.
Using an MMA platform takes the vision and planning from the marketer and adds the technology, which allows marketers to connect dots and send personalised and sophisticated campaigns like never before.
How it can help your business grow?
Mobile marketing offers endless possibilities to reach out to customers at the right place and the right time. Additionally, MMA gives you the additional benefits of speed, lower costs and time savings.
Mobile Messaging Automated platforms aid you in handling the technical complexities, while you focus on creating captivating content and building lasting relationships with your customers.
With a Mobile Marketing Automation system you can:
schedule push notifications
SMS messages and in-app messages — as well as your emails.
Gather more details about your leads and customers, such as their location, their browsing habits, and what type of device they're using.
Now that we know what a Mobile Marketing system can do, it's important to come up with a strategy to implement it.
What strategies do you need for mobile marketing automation?
Strategy
Developing a mobile marketing automation strategy will help you chart out a clear, well-defined roadmap to help achieve your goals. The key mechanisms of a mobile marketing automation strategy include asking the following questions.
Which techniques are you going to use to capture and nurture leads?
What touchpoints and channels will you use to generate viable sales leads?
What qualifiers will you use for segmentation?
What triggers and events would drive communications?
What is the volume of the messages you will send?
Data Integration
For data integration, an efficient Customer Relationship Management (CRM) platform will help you assemble customer data and track customer interactions. Additionally, a Customer Data Platform (CDP) will help incorporate customer data from various sources and make it available to various business verticals.
This is where a mobile marketing automation system comes in, as it automates the task of gathering data from various platforms such as CRM and CDP to fuel your mobile marketing campaigns.
Using the Correct Mobile Marketing Automation Platform
Capitalising on the right automation platform will provide increased productivity and optimum application of resources in the long run.
There are 7 abilities one needs to look for in a mobile marketing platform, they are:
Ability to facilitate high message volumes.
Aptness to automate across multi-touch campaigns.
Segmentation support.
Customisation capabilities to deliver appropriate messages using demographic or behavioural attributes.
Analytics and reporting to measure campaign impact, glean insights on engagement (app installs, clicks, usage, reviews), etc.
Notifications and alerts based on specific events.
Utilising event data to trigger near real-time communications.
Segmentation
Automated segmentation can help send out relevant messages to tag users. You can use automation to classify your customer (or prospect) base using various qualities such as demographics, app usage, etc.
This data can be collected from users' settings or the preferences centre in your app, or the automation system can collect statistics that include the number of installs and uninstalls, type of mobile devices used, locations with the maximum number of installs, and so on.
Engagement and Personalisation
A personalized message has a much higher impact as compared to a generic blast. Automation platforms can help in customising messages based on user behaviour, customer's stage in the sales funnel, location, etc.
Additionally, the system can help map out the customer journey, and motivate meaningful engagement by sending relevant, 'in the moment' content and by continually refining the end-to-end experience on mobile.
Coupling Proximity Messaging and Geo-Fencing
Mobile marketing automation can leverage the location of a mobile device to send contextual messages to the customer. Location technology supports two mobile marketing automation campaigns:
Geo-Fencing: It is a GPS-based campaign, where a virtual fence is built around the area of interest. For example, store location, competitor store, a shopping complex, etc. This leads to a promotional message or notification being sent to the user when a user enters that margin.
Proximity-based campaigns: These campaigns use the beacon (a small piece of hardware that emits Bluetooth signals) technology. This activates the message when the user enters the beacon's range.
Furthermore, with mobile marketing automation, you can use location awareness to gather contextual data about customers. For example, a fitness app could track a user's running trail and send an exclusive offer when the customer completes their first 3-mile run.
Test and Measure
Testing helps measure which campaigns drive most conversions and which messages capture user attention. Most marketing platforms offer the A/B testing capability which assists in:
Determining which version converts more.
Optimising messaging and in-app experiences.
Understanding the positive and negative aspects of a campaign.
It is also essential to track performance and goals periodically and adjust your campaigns to support your business goals. Your marketing automation plan should include:
KPI tracking to identify trends and impact
ROI measurement and areas to invest in.
Catering to your client
The strategy of Mobile-first has become vital for most businesses, as delivering contextual, personalised, interactive messages at the 'perfect' moment, now takes precedence over everything else – and with Mobile Marketing Automation you are able to achieve that.
Most importantly, iTouch's Omni-channel platform provides SMS, Email, Active Voice Message and Social Media all in one place. Meaning you will not have to look any further. For more information about our Omni-Channel Platform, click here
To find out more about our other services contact us here
Sources