Statistics SA's Crime Against Women in South Africa Report found that Femicide (the murder of women based on their gender) is 5 times higher than the global average. These stats have labelled South Africa as the "rape capital of the world"- Due to this intolerable amount of gender-based violence within South Africa, women have decided come together, speak up and say enough is enough. Recent protests have seen men and women stand together for justice against those who have committed crimes against women and children in South Africa.
Abuse against the females is not limited to rape but many other types of abuse and iTouch believe that women and children have suffered enough and abuse, in any form should be eradicated.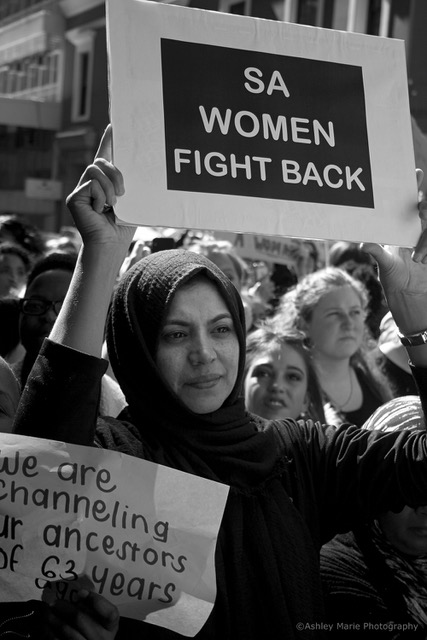 Anchored to iTouch is The Feroza Adam Legacy
It is iTouch's mission to assist in transforming and improving the standard of living for Africans. The iTouch Foundation provides learning and developing opportunities with a focus on media, communications and information technology. Launched by the iTouch Foundation in 2015, the Feroza Adam Legacy was established in 2015 to empower disadvantaged women through skills development and mentorship programs.
Proudly South African, Feroza Adam, born 16th August 1961 was a devoted activist for change from the unjust Apartheid State. She was also a member of the Federal Transvaal Woman, a convenor to the National Women's Coalition and a member of the Parliament. Feroza was described by ANC as,
"a fierce opponent of apartheid and a tenacious fighter against gender discrimination"
Sadly, Feroza died on Woman's Day, 9th August 1994 due to a terrible car accident. iTouch had commemorated this mournful day by launching the iTouch Foundation on Woman's Day.
In following the legacy of Feroza Adam, iTouch is committed to fight for and help put an end to gender-based violence, yesterday, today, and every single day thereafter. Gender-based violence affects all of us, and we stand in solidarity with our woman.
We believe that Feroza Adam would have supported this cause on helping to fight gender-based violence within South Africa.
Let Us Honour Feroza Adams Legacy
Violence is a serious matter which South Africa wishes to soon surpass. It is time for human beings to live in harmony, so let us start by speaking up and honouring Feroza with her bravery in fighting for true justice.
For more information on Feroza Adam, click here
Sources